Mocafe Organic Frappes
Mocafe Organics™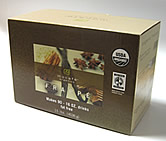 Introducing a new line from Mocafe Organics™ of USDA Organic Certified Frappes with no compromise on flavor.
Available flavors:
Dominican Mocha
Dominican Mocha (No Coffee)
Vera Cruz Café Latte
Belizian Vanilla Latte
Available in 10 lb Coffee Bar Box
Yield: 90 * 16 oz Drinks
3 Reasons to switch to Mocafe Organics™:
1. Organic Food is the Fastest Growing Segment of Food Sales in North America US organic food sales have grown 17 to 21 percent each year since 1997, to nearly triple in sales, while total US food sales over this time period grew in the range of 2 to 4 percent a year.
2. Healthier, Pesticide-Free Frappes.
3. Better Quality
Pure ingredients from small artisan farmers means better tasting drinks – Guaranteed. Organic chocolate quality starts with healthy soil, the best varieties and careful attention from the farmer. Our cocoa beans are supplied by over 600 small scale organic farmers who are partners in the Yacao Project in the Dominican Republic.