Monin Sauces

Monin Gourmet Sauces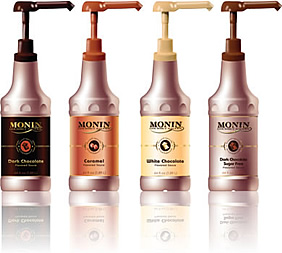 Monin Gourmet Sauces are made with the finest quality ingredients and natural flavors, designed to complement premium espresso. This perfect balance of coffee and sauce flavor is guaranteed to please even the most discriminating mocha enthusiasts.
Monin Gourmet Sauces are formulated with the finest ingredients and natural flavors to create indulgent mochas, lattes, frappes, macchiatos and more!
Monin Gourmet Sauces are available in four indulgent varieties: Dark Chocolate, Caramel, White Chocolate, and Sugar Free Dark Chocolate.
Available in half-gallon jugs.