Mexican Spiced Cocao
Azteca D'Oro Mexican Spiced Cocao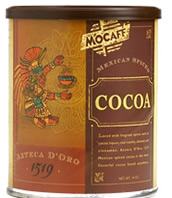 Azteca D'oro 1519 Mexican spiced cocoa utilizes premium cocoa, real Madagascar vanilla, almond, cinnamon and other all-natural spices.
Mexican cocoa is primarily sold in solid tablets form, and up until now has been very laborious to use.
Uses include: Hot Mexican Spice Cocoa, Spiced Hot Mexican mocha, spiced blended frozen cocoa, Spiced blended frozen mocha, or add your favorite liquor.
They are easy to prepare and extremely profitable.