Frappe Mixes from MOCAFE™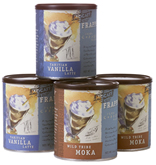 Variety, ease of preparation, addictive flavor and low product cost make these frozen mixes a great opportunity for your profit potential. Formulated for granita machines, beverage dispensers and blenders. Just blend and serve.
Wild Tribe Moka™
An exotic intense blend of varietal African Forestero cocoa and aromatic medium roasted Colombian coffee delicately balanced to make your customers go wild!
Rich chocolate flavor notes with mild coffee flavor, smooth mouth feel and texture.
Appeals to those who don't want an overly strong coffee flavor.
Caffe Latte Blend™
A rich blend of Columbian mountain grown arabica coffee in a non-dairy powdered base.
Medium bodied coffee with a smooth fine flavor.
Tahitian Vanilla Latte Blend™
An aromatic blend of the world's finest Tahitian vanilla combined with medium roasted Columbian arabica coffee. Rich vanilla flavor with mild coffee overtones.
MOCAFE ™ Mocha Blend
Predominant coffee flavor, smooth body, bittersweet cocoa noted with hint of cinnamon.
100% varietal Arabica coffee, Trinidad Cocoa. No tropical oils, Non-dairy, zero cholesterol.
More MOCAFE ™ Frappe Mixes
Malt Mocha
Toffee Mocha
Peanut Butter Mocha