Espresso Equipment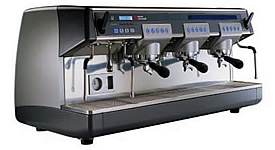 Nuova Simonelli is one of Italy's leading espresso machine manufacturers and has been manufacturing since 1936.
Nuova Simonelli offers a wide selection of models and features. All the Nuova Simonelli commercial models are UL Listed and NSF approved.
In addition, Nuova Simonelli maintains a distribution center in the United States, which allows for quick access to equipment, parts and expertise.
We carry the following Nuova Simonelli Machines:
Espresso Machines
Pannini Sandwich Grills
Grinders
Coffee Brewers
As a Factory Authorized Nuova Simonelli Distributor, we at the Cappuccino Connection pride ourselves on the relationship we develop with our customers.

We believe in educating our customers and providing them with the utmost in service and support.
We offer staff training, 24-hour emergency service, free loaner machines and a generous trade-up policy. Our technicians are factory trained and we have immediate access to parts.
Call 1-800-249-0011 for pricing and leasing information.
Let us take the hassle out of purchasing an espresso machine. We can keep your machine making money for you.
To make your purchase easy and keep your machine running properly The Cappuccino Connection will:
Test your machine prior to delivery to insure that no damage occurred during shipment.
Professionally install your espresso machine at a date and time, which is convenient to you with a minimal disruption to your business.
Include a dual housing water filter and softener with the installation. This protects your machine from damage caused by mineral deposits in your water.
Train you and your staff on the proper operation of the machine and preparation of drinks.
Provide prompt service should your machine have a problem. We will provide you with a phone number at which we can be reached 24 hours a day.
Loan you an espresso machine should your machine have to be removed for service. We don't want you to stop making money because your espresso machine is not working.
Suggest a maintenance routine and be available to perform regular maintenance on your machine. Properly maintained, an espresso machine will provide you with years of trouble free operation.