Boosta Shot Energy Mixes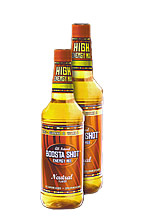 Most energy drinks today are overloaded with sugar and caffeine. Boosta Shot is unique because it is "botanical-based" and uses herbs, amino acids and vitamins to deliver energy. Boosta Shot was designed by baristas as a nuetral ingredient that will "Energize Everything." No Caffeine Added. 0 Grams of Sugar.
Craft your own energy soda with club soda, flavored syrups and Boosta Shot, energize a frozen blended beverage by simply adding Boosta Shot, even create fun, espresso-based specialty coffee energy drinks. Download Boosta Shot Recipes (pdf).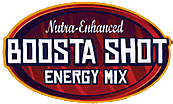 Energize any beverage, hot, cold or blended with 5 hours of a "balanced boost" without the crash. What's in Boosta Shot? It is filled with Taurine, Ginseng, Guarana & Vitamin B.
Product Highlights
Botanical-based energy with no added caffeine & zero sugar
Sell more "made-to-order" beverages at higher profit than Ready-to-Drink energy beverages.
Create "Hand-Crafted" energy drinks, served hot, cold or blended
Simple to use: Add 3 pumps to any beverage to get the Boosta Shot Pure Energy Lift
Boost Your Business & Profits
Available in Case of 4 * 1 Liter Bottles and 48 * 1.5 oz pouches.