Welcome to Cappuccino Connection!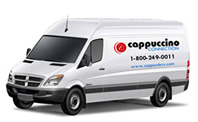 The Cappuccino Connection is a wholesale distributor of coffee and specialty beverage equipment and supplies.
The Cappuccino Connection helps to make your coffee business profitable!
By offering a variety of high quality, high profit beverage products and providing the utmost in service and support we help your bottom line.
At Cappuccino Connection we feature recognized leaders such as DaVinci Gourmet, Lavazza Coffee, Novus Tea, Cafe D'Amore, Cappuccine, Ghirardelli, Monin, Jet Tea, Mighty Leaf Tea, Oregon Chai, Blendtec, Nuova Simonelli, Vita-Mix, Bunn, Urnex, Gardner's Gourmet and MoCafe.
We keep a full selection of products on hand, and keep double what we sell "in stock."
Visit our new products page for latest product lines at the Cappuccino Connection.
The Cappuccino Connection also distributes and services espresso machines, coffee brewing equipment and grinders.
You can now order online at www.capporders.com.